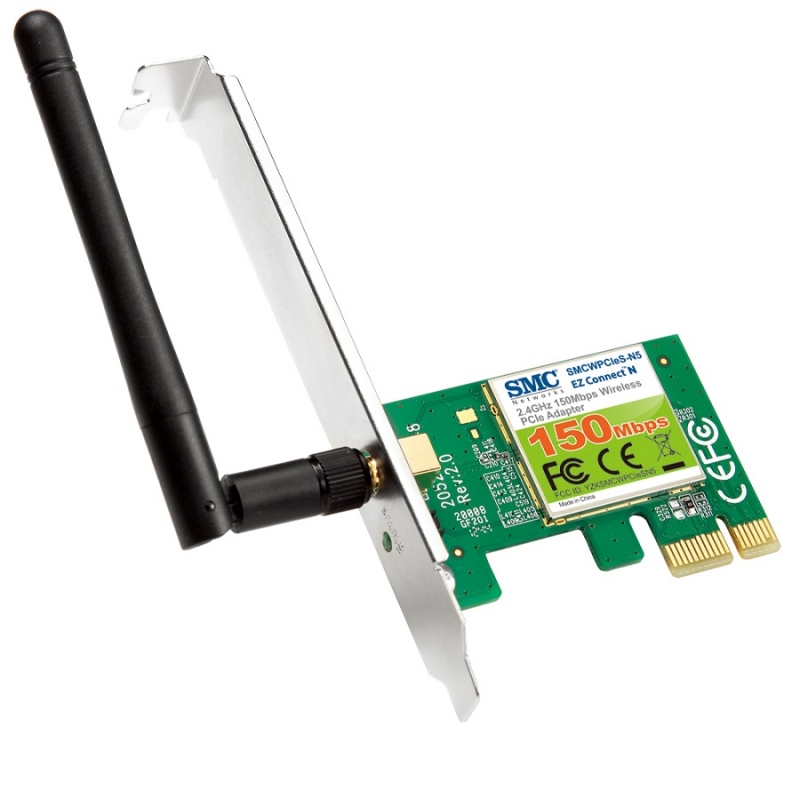 Compatible with IEEE 802.11b/g/n
WEP /WPA /WPA2 Encryption
Easy installation with step-by-step guidance
Window 7/8 support
Frequency Range: 2.4 Ghz
The EZ Connect N Wireless PCIe Adapter ( SMCWPCIeS-N5 ) is another cutting-edge introduction in 2.4 GHz wirelessncommunications for desktop computers. Designed for the home and office, this wireless PCIe adapter provides the speed, coverage, and security expected by today's wireless users.
The SMCWPCIeS-N5 is Wi-Fi compatible for full compliance with IEEE 802.11b/g standards and based on IEEE 802.11n technology, which can reach wireless speeds of up to 150 Mbps, enough to simultaneously stream video and audio, play on line games, transfer large files, make VoIP calls, and surf the Internet.
With security being a key consideration, the SMCWPCIeS-N5 supports the latest WPA and WPA2 wireless encryption standards, which prevent unauthorized access to wireless networks and ensure data is secure.